Busted! What is the color of trustworthy information?
Color Matters Blog
Color is always doing something. Sometimes color screams out a message, sometimes it casts a subliminal spell. So, what's happening in the world of color today? Yesterday? Tomorrow? What are the facts, what are the myths?
2 minutes reading time
(375 words)
Busted! What is the color of trustworthy information?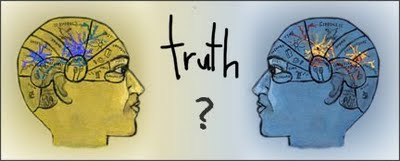 Wikipedia just announced that they will allow a color-coding for text that has been declared untrustworthy. Orange will be used to highlight unreliable text, with more reliable text given a lighter shade. Text earns "trust" over time, and moves from orange to white.

It's unfortunate that color myths - such as those presented by Benjamin Moore recently - had not been subjected to similar evaluation. For example, their recent "Color Associations" article claimed that:

1. Yellow is the most difficult color for the eye to process and see.
(Fact: Yellow and yellow-green have the highest visibility of all the colors. Just look at caution signs, fire trucks, and emergency rescue vehicles.)

2. Yellow aids digestion and stimulates circulation.

3. Blue is also known as anti-inflammatory, and can provide relief for insomnia and headaches.

So then, if I have severe gastro-intestinal distress, should I get a dose of blue to stop the inflammation or do I choose yellow to aid digestion?

This also raises a question about how to use a color for these cures. Are you supposed to stare at a piece of colored paper, drink a glass of colored liquid, bathe in colored light, or rush out and buy a gallon of paint for the walls? By the way, will a pastel version of the color work as fast as a deep dark shade?

Fortunately, Benjamin Moore decided to remove and review this article after reading Kelly Berg's blog post, "Benjamin Moore, We Expect More from You." Cheers, Kelly! -

Aside from this incident, we are unfortunately subjected to unreliable information from people who stand to make a lot of money from posing as professionals. As Kelly states, "We are not doctors, and we can't go around prescribing paint colors for physical ailments. The psychology of color is far too complicated for that."

In the meantime, if you want factual information about using color to transform your home into a place that feels good according to your needs (calm, stimulating, inspiring, etc.), see Color Matters for the Home. It's an easy to follow guide that you can download it in seconds.

PS. I'm a great fan of Benjamin Moore paint and have specified their hues for many projects. They have the most glorious yellows!
Stay Informed
When you subscribe to the blog, we will send you an e-mail when there are new updates on the site so you wouldn't miss them.