Finding Color in a Parking Garage
Color Matters Blog
Color is always doing something. Sometimes color screams out a message, sometimes it casts a subliminal spell. So, what's happening in the world of color today? Yesterday? Tomorrow? What are the facts, what are the myths?
1 minute reading time
(148 words)
Finding Color in a Parking Garage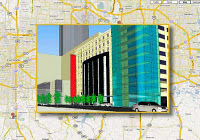 Every once in a while you find an example of architectural color that goes beyond the blah beigeness of contemporary design. This time, it's a Public Art project in Fort Worth, Texas.
The parking garage for the Fort Worth Convention Center, designed by Christopher Janney, is a multilevel, multihued structure that changes colors. The building's facade is enlivened by five colored glass "fins" that cast colorful shadows by day, allowing the sunlight to "paint" the building surface. The garage also features environmental sounds native to this area. As reporter Michael Price noted, "Not only does 'Parking in Color' fulfill a practical requirement of the need for automobile parking at the southern reaches of the Central Business District – it does so, as well, in a way that enlivens the purely functional act of stowing one's car with a sense of playful adventure."
Source: Parking as Art
Stay Informed
When you subscribe to the blog, we will send you an e-mail when there are new updates on the site so you wouldn't miss them.