Blue is the car color of tomorrow
Monday, December 01, 2008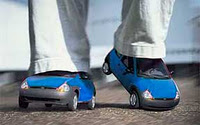 It's blue again! It's the favorite color of people all around the globe and even though we may adore it and wear it, how many people want a "true blue" car?
Automotive paint supplier PPG Industries Inc. issued its annual forecast and predicts that blues (particularly more vibrant, richer, complex blues) will take on a more important role in car styling.