Pakistan - History
Cultural History as Key to Color - The Lahore Fort & Badshahi Mosque

The historical landscape of any place in the world serves as an essential key to colors – to meaningful colors in a culture. This was the focus of the color workshop for the Visual Communications second year students at BNU in Lahore, Pakistan.
The project began with a field trip to the Lahore Fort and the Badshahi Mosque (whose estimated date of initial construction is the 11th century – long before the Gothic cathedrals of the Western world). The assignment required that each student take approximately ten sets of photographs. Each set required a panoramic shot of any building on the 48 acres of the Fort and Mosque and 4-5 close up shots of the same structure. (A possible total of 50 or more images.) A concentrated focus on the colors and textures was the primary issue.

The Lahore Fort and the Badshahi Mosque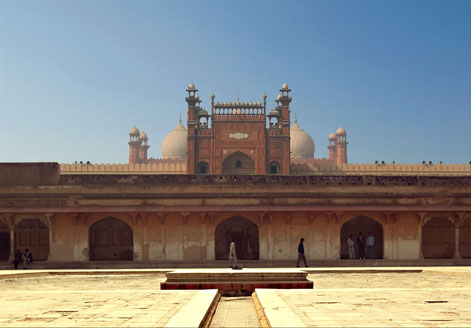 Photo courtesy of Muneeba Asif Ali

Students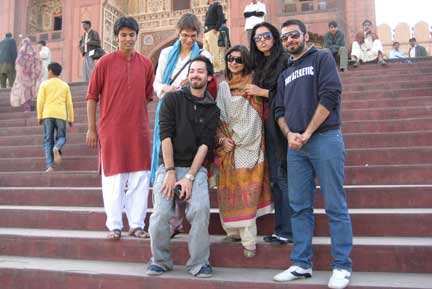 Most of the students had visited the Fort and Mosque several times during elementary school and high school field trips. In spite or this, the experience of observing the colors of these significant historical buildings from near and far was an invaluable experience.
---
Some photographs of the field trip at the Fort and Mosque
img alt="inside the Fort"
---

IN THE ART STUDIO
After the field trip, the students submitted their photos for a review. The results of this survey were to be presented in a well-designed collage, triptych, or any organized composition.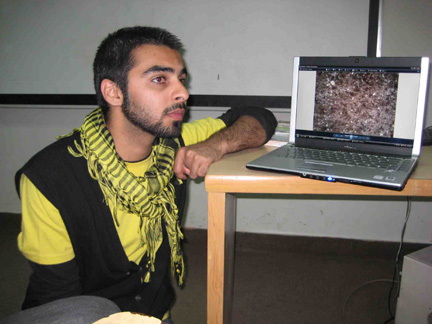 PHOTO COLLAGES
Here are two examples of the artwork that resulted from each student's experiences of the historical colors of the Lahore Fort and Badshahi Mosque.