Push the color red as far as it can go?
Color Matters Blog
Color is always doing something. Sometimes color screams out a message, sometimes it casts a subliminal spell. So, what's happening in the world of color today? Yesterday? Tomorrow? What are the facts, what are the myths?
1 minute reading time
(281 words)
Push the color red as far as it can go?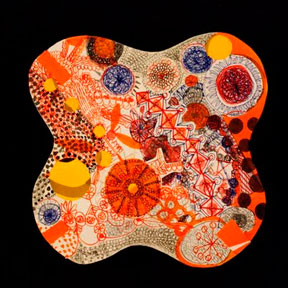 One of my unfulfilled dreams as a colorist has been to pack as many colors as possible into a painting that breaks the barrier of "it's too pretty to be considered as serious art."

When I was working on my M.F.A., the "anti-aesthetic" ruled. The art that was sanctioned by the intelligentsia was far from lovely. Matisse's famous philosophy - that a painting should be like a comfortable armchair - was taboo. There was no going back to the luxurious color harmonies of Matisse and Monet in the French impressionist era or the lush abstractions of deKooning or Rothko in the mid-twentieth century.


Maybe it was a good thing that I turned away from painting fifteen years ago, because until a few days ago, I didn't think it was possible to create an image on a canvas with juicy oil paints - an image with more colors that one could imagine occupying the picture plane or just one lush or screaming color in a way that it had never existed before. Finally, I didn't believe that this genre of colorful imagery could meet the high standards of the fine arts world today.

I met an artist last week whose paintings embody every goal, every dream any artist, any colorist could wish for. She is Chris Chou, a Guggenheim Fellow 2007 - and that means she is indeed taken seriously by artists and art historians internationally.

Here's what Chris says about red "I paint the color of red. I want to push red as far as it can go."

At this point, words fail. See what she did with red and every color of the spectrum at Chris Chou's blog - http://aredstudio.blogspot.com/
Stay Informed
When you subscribe to the blog, we will send you an e-mail when there are new updates on the site so you wouldn't miss them.