Something New to Pink About?
Color Matters Blog
Color is always doing something. Sometimes color screams out a message, sometimes it casts a subliminal spell. So, what's happening in the world of color today? Yesterday? Tomorrow? What are the facts, what are the myths?
3 minutes reading time
(523 words)
Something New to Pink About?
Pink has been all over the news recently. Some of it is powerful and inspiring but the same old dirty little lies about pink continue to be spread. We begin with color news you can't use:
Liar Liar – The Color Wheel Is on Fire
(The same old nasty alternative facts about pink)
"Cool Down Pink"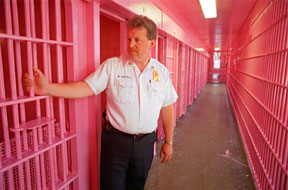 The article states: "Are you quick-tempered? Have bouts of aggression? The reason could be lack of pink in your environment! According to psychologist Daniela Spath a certain shade of pink calms the nerves, including in aggressive prisoners."
So wrong!
This broad generalization is based on a 1976 study has been debunked many times over. When scientists replicated it, they found that the effects of pink walls don't last very long and that the color can even make prisoners angrier after the first few hours. Unfortunately, people love to believe that this color is an instant fix for jails and cite the first study. Labels such as "Cool Down Pink" and "Drunk Tank Pink" continue to ping in our brains. How we wish it were so simple!

Get the real facts at Drunk Tank Pink on Color Matters
---
Color Behaving Badly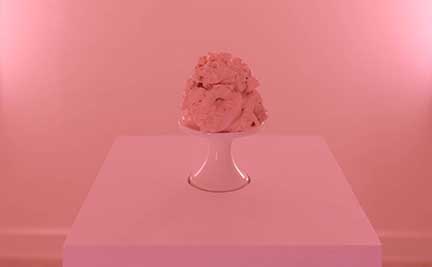 "The Secret Wall Color for Dropping Pounds"
Kendall Jenner claims that "Baker-Miller Pink" is the only color scientifically proven to calm you AND suppress your appetite,"
Once she heard about the hue through friends, she told her fans, "I was like, 'I NEED this color in my house!'"
Kendall cites no source, but you can pay to subscribe to the "Kendall Jenner Official App."
A Tip for Using Pink:
A room that is predominantly pink or a room that is bathed in pink light will seem warmer.
Source: Color Harmony for Your Home
---
Quote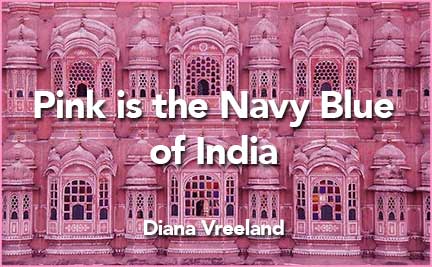 "Pink is the Navy Blue of India"
What does this really mean?

India's Taj Majal is the greatest building inspired by love but it's not really pink. On the other hand, you can watch it change color from sunrise to sunset, from orange to white to pink.
Vreeland's famous quote most likely refers to how India is a very colorful place where wearing bright colors - such as pink - is the norm. By comparison conservative dark colors - such as navy blue - are more common in other countries in the Western world.
---
Cool Stuff About Pink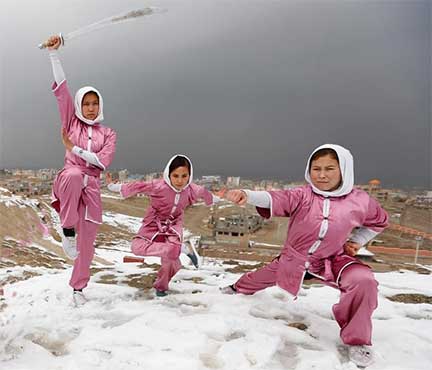 Photography by Mohammad Ismail
Fighting prejudice with martial arts

In a country where women's sports are severely restricted a group of Afghan girls practice the flowing movements of Wushu, a sport developed from ancient Chinese kung fu martial arts
Pinks cousin is red is the color of war.
Could pink become the hue of nonviolent battle?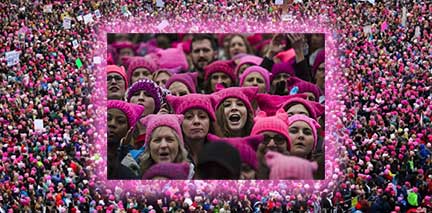 A Western Cultural History of Pink, from Madame de Pompadour to Pussy Hats
Pink's symbolism is changing with the times. It's definitely shedding old associations and becoming a force to be reckoned with.
---
Learn "The Psychology of Color Symbolism" in this online course from Color Matters.
---
Sta in touch with the latest news about color. Sign up for the Color Matters newsletter and get a free copy of "The 3 Most Common Color Mistakes & How to Fix It."
---
Check us out!
Color Matters on Facebook
Color Matters Online Courses
Stay Informed
When you subscribe to the blog, we will send you an e-mail when there are new updates on the site so you wouldn't miss them.